Earlier this week, I made bacon cheddar scallion biscuits because I had been craving an especially savory breakfast bread option for those mornings that you wake up a little bit later than you'd like. Nothing too fancy, just fifteen traditional country biscuits except that I replaced some of the butter with bacon fat and added bacon, scallions, and a lot of extra sharp cheddar cheese.
But then late Friday night rolled around: I had already eaten dinner, but wanted just a tiny bit more food. Naturally, I was craving a burger, but knew that I couldn't handle a full portion. I had almost resigned myself to making myself a miniature burger with all the fixings but without a bun, but glanced over towards the toaster oven and noticed eight perfectly sized bacony, cheddary, buttery biscuits - practically waiting to become burger buns.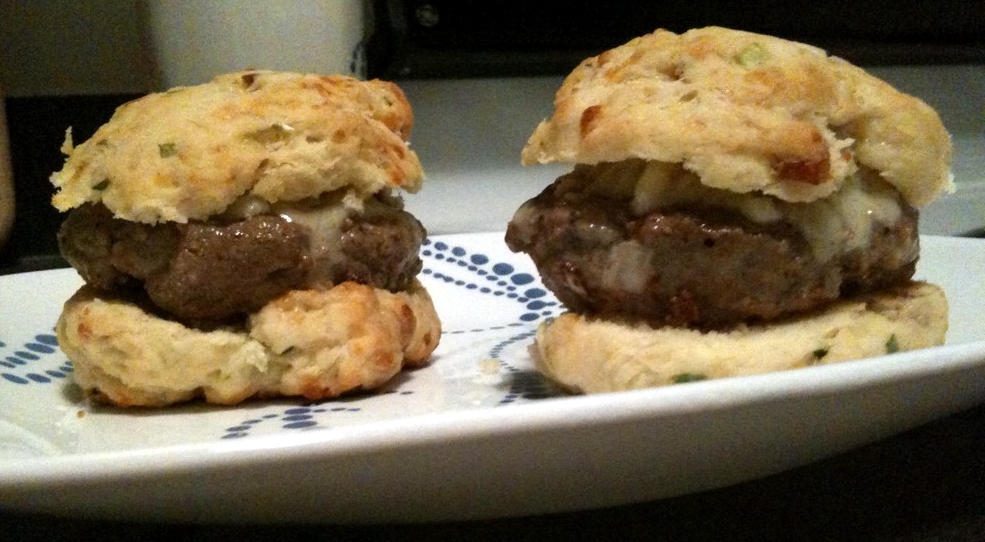 Putting caramelized onions, bacon, and cheddar on the burger along with the already flavor-packed biscuit felt like overkill, so instead, I left the bacon to the biscuit and put very finely diced onions along with slightly more grated extra sharp cheddar cheese in the burger patty itself. Well, that's a bit of a lie, a tablespoon or so more of grated cheddar ended up on top of the burger patty because cheese is kind of just that good. When the burgers seemed about done, I very, very lightly toasted (they had a lot of cheese in them) the bacon cheddar scallion biscuits.
All in all, these sliders were quite rich, but hardly overbearingly so. And quite delicious. I woke up the next day wanting them again (or maybe I just really have immense, insatiable burger cravings), so I made them for brunch the next day, too.