Last November, signs banning e-assist bikes were tacked onto Prospect Park's rule signs: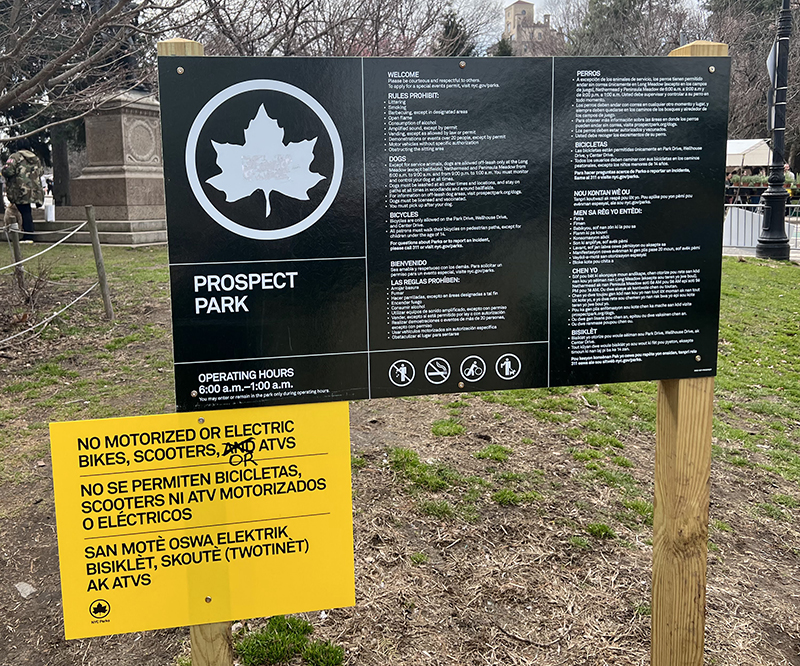 I'm in Streetsblog today with a piece about why reversing this arbitrary ban is a matter of equity:
Over Memorial Day Weekend, an infuriating scene unfolded in Prospect Park. A now-viral tweet showed NYPD and NYC Parks officers setting up a sting in Prospect Park, stopping riders on e-assist bikes, including parents transporting toddlers:

Nypd has an ebike check point at prospect park this afternoon, apparently. stopped my husband on his pedal assist ebike from bringing our daughter into the park. Threatened him with a $150 fine and destroying his bike. #bikenyc pic.twitter.com/6ZgKqGSjLX

— Shay O'Reilly (@shaygabriel) May 29, 2022

According to the tweet, officers were even threatening to destroy the e-assist bikes, which are legal to ride on New York City streets, but have been banned in Prospect Park due to an arbitrary decree from the city Parks Department. This policy is discriminatory and ableist, and harmful to climate goals. Council Members Shahana Hanif, Rita Joseph and Crystal Hudson, whose districts border or include Prospect Park, all agree that Prospect Park needs a thoughtful policy to include e-assist bikes. I also urge Mayor Adams to right this wrong and set an e-assist policy based in fact, not fear, for Prospect Park.