Despite growing up in Chicago where winter is defined as "more traffic" and "delayed flights," the first thing that comes to mind in winter is creamy squash soups. In the haze of moving, Mystery Hunt, and working on writing 6.042 problems this IAP, I somehow neglected making soup this January. To quench my craving and finally use up the three cans of puréed pumpkins sitting in my cabinet, I decided to make curried pumpkin soup.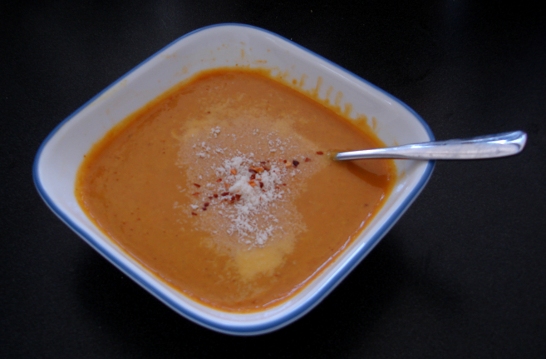 I usually top this with a bit of pecorino romano cheese, but since I didn't have any in the fridge, I opted for parmesan and crushed red pepper flakes. If pumpkins are in season, toasted pumpkin seeds work even better.
Hopefully, I can subdue my craving for soup with this, but I've already decided that French onion soup is next.
Curried pumpkin soup
Ingredients:
4 tablespoons (1/2 stick) unsalted butter
3 medium chopped yellow onions
4 teaspoons minced garlic
1/4 cup chopped red peppers (can substitute 1/2 teaspoons crushed red pepper)
2 teaspoons curry powder
1/2 teaspoon ground coriander
3 15 oz. cans puréed pumpkin
5 cups vegetable (or chicken) broth
1/4 cup brown sugar
1 teaspoon salt
2 cups milk
1/2 cup heavy cream
Preparation:
Melt butter in a small saucepan over medium-high heat. Add onions, garlic, and red peppers, then cook, stirring often, until softened (about four minutes). Add the curry powder and coriander (and crushed red peppers if opting for this method), and stir for another minute.
Mix the puréed pumpkin, broth, and sautéed vegetables in a large stockpot. Blend well. Bring the pot to a boil, then reduce the heat and let simmer for ten to fifteen minutes.
Blend the soup in a food processor or blender until smooth, and put the soup back in the stockpot.
With the soup on low heat, add the brown sugar and mix. Next, add the salt. Slowly add the milk and the cream while stirring to incorporate without burning.
Makes eight to ten servings.