There's something about using your escape from the cold as an excuse to bake cookies that really makes it feel like the Christmas season (or maybe I just like having excuses to bake). Before leaving New York for holidays with the family in Chicago, I made candy cane brownie cookies to bring home. But it doesn't really feel like Christmas until the baking with family begins.
My mom got a nice bunch of fresh ricotta cheese from the store and really wanted to make soft, cake-like cookies with it (a capital idea). That and she had a hankering for lemon.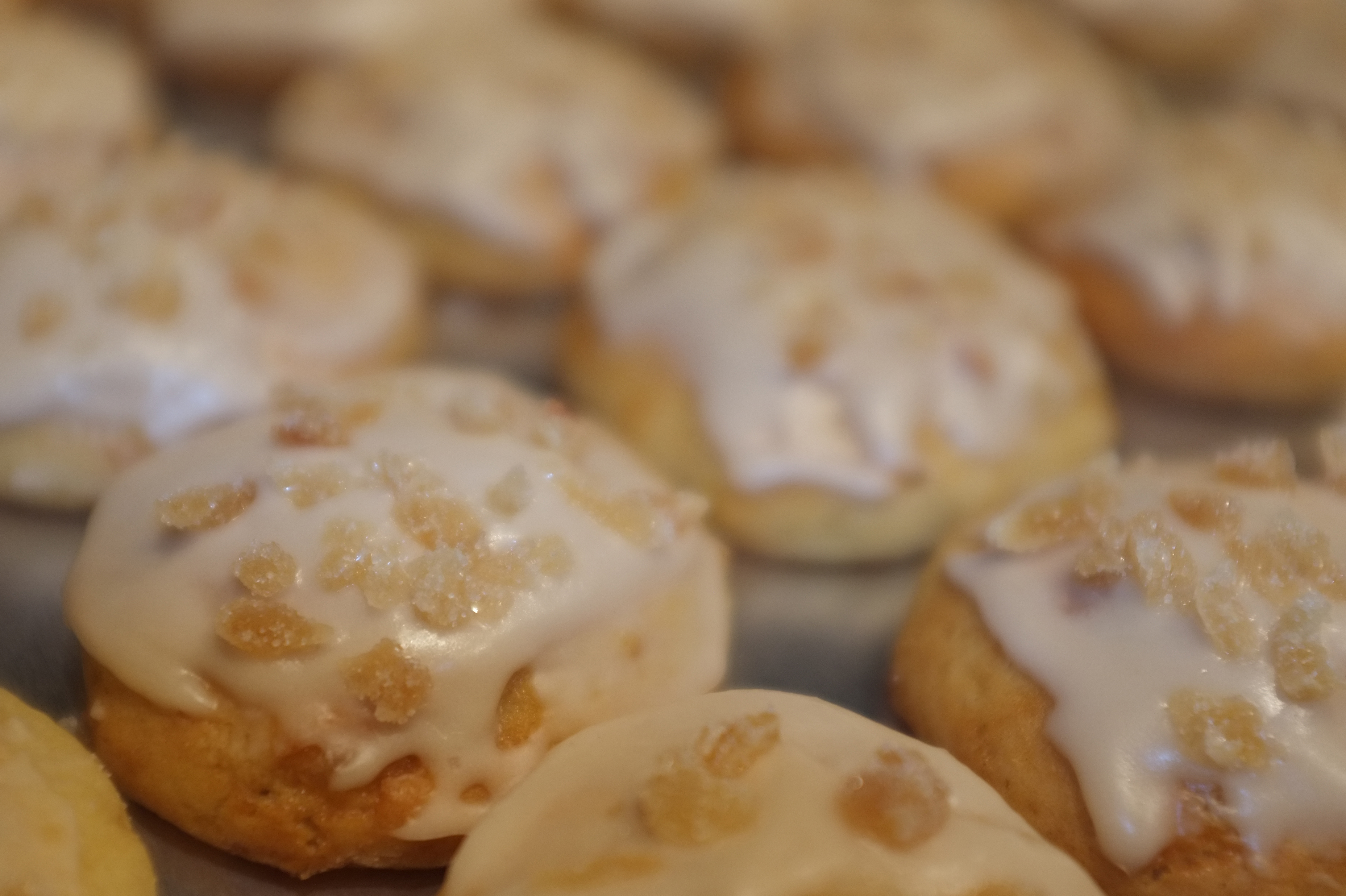 When someone mentions lemon, my insides scream "ginger! ginger!" So, of course, we decided on making some lemon ginger ricotta cookies. Now, it's worth noting that when my mother and I decide on lemon, we seriously mean lemon - none of this sprinkle a bit of lemon into the batter just to say that we did, we want a full on lemon attack. We ended up packing most of that punch into the icing.
Lemon ginger ricotta cookies
As a warning for those who might start before reading this whole recipe, this makes a lot of cookies - 10 dozen. You may want to cut it in half.
Ingredients:
1 cup (2 sticks) unsalted butter
2 cups white granulated sugar
1.75 cups fresh ricotta cheese (okay, it doens't need to be fresh, but make sure it's full fat, not skim)
Zest of three lemons (Pro tip: use a microplane grater. My mom started zesting lemons with a zester meant mostly for garnishing drinks, and it would have taken much longer if we didn't think to use the microplane instead.)
Juice of one lemon
1 tablespoon vanilla extract
2 eggs
4 cups bread or all-purpose flour
2 teaspoons baking soda
1 teaspoon kosher salt
0.75 cups finely chopped crystallized ginger, plus another 0.25 cups for topping iced cookies (King Arthur Flour's ginger mini chips are great if you don't want to take a knife to crystallized ginger for ten minutes)
1 batch lemon ginger icing (follows)
Preparation:
Cream butter and sugar together until fluffy.
Add ricotta, lemon zest, lemon juice, and vanilla and beat until mixed thoroughly.
Add in eggs one at a time, each time beating until well combined.
Beat in flour, baking soda, and kosher salt until combined.
Fold in crystallized ginger.
Cover dough and refrigerate until chilled enough to work with (about 2 hours).
Preheat the oven to 350 degrees.
Line a cookie sheet with parchment paper or a silpat and place 1 inch balls of dough about 2 inches apart. The dough is a bit sticky, even after chilling, so you may want to rinse your hands with water and shake them dry just a bit before working with the dough. Bake until golden on the bottom edges, about 14-18 minutes. Cool on wire racks.
When cool, spread lemon ginger icing on cookies and sprinkle with additional crystallized ginger bits. Let cool about 15-20 minutes before serving so icing can harden on the outside.
Yields about 10 dozen 1.5 inch cookies.
Lemon ginger icing
Ingredients:
4 tablespoons (0.5 sticks) unsalted butter
4 cups confectioners' sugar
Juice of 1-2 lemons, to taste
2 tablespoons vanilla extract (this will make the icing a bit brown toned, but I prefer flavor to appearance and have never much liked clear vanilla flavorings)
3 tablespoons ginger syrup (you can make your own by steeping ginger in simple syrup as it is boiling or buy something like The Ginger People's Ginger Syrup)
1-2 tablespoons milk
Preparation:
Beat butter and 2 cups of the confectioners' sugar together.
Add lemon juice, vanilla extract, and ginger syrup, and beat until combined.
Slowly add the remaining 2 cups of confectioners' sugar and mix until combined.
Add in enough milk to make the icing spreadable. I prefer that this icing isn't particularly runny or thin, but I don't think that it's quite buttery and fluffy enough to be called frosting instead. Refrigerate until ready to use.
Yields about 5 cups of icing, enough for one batch of lemon ginger ricotta cookies.