Madeleines are probably my favorite baked good - both to eat and to make. They're rich in flavor, but light in texture. They're quick to make (hellooo, morning option), but don't get boring as they exercise good techniques (easy to learn good techniques, even). And they go really well with coffee.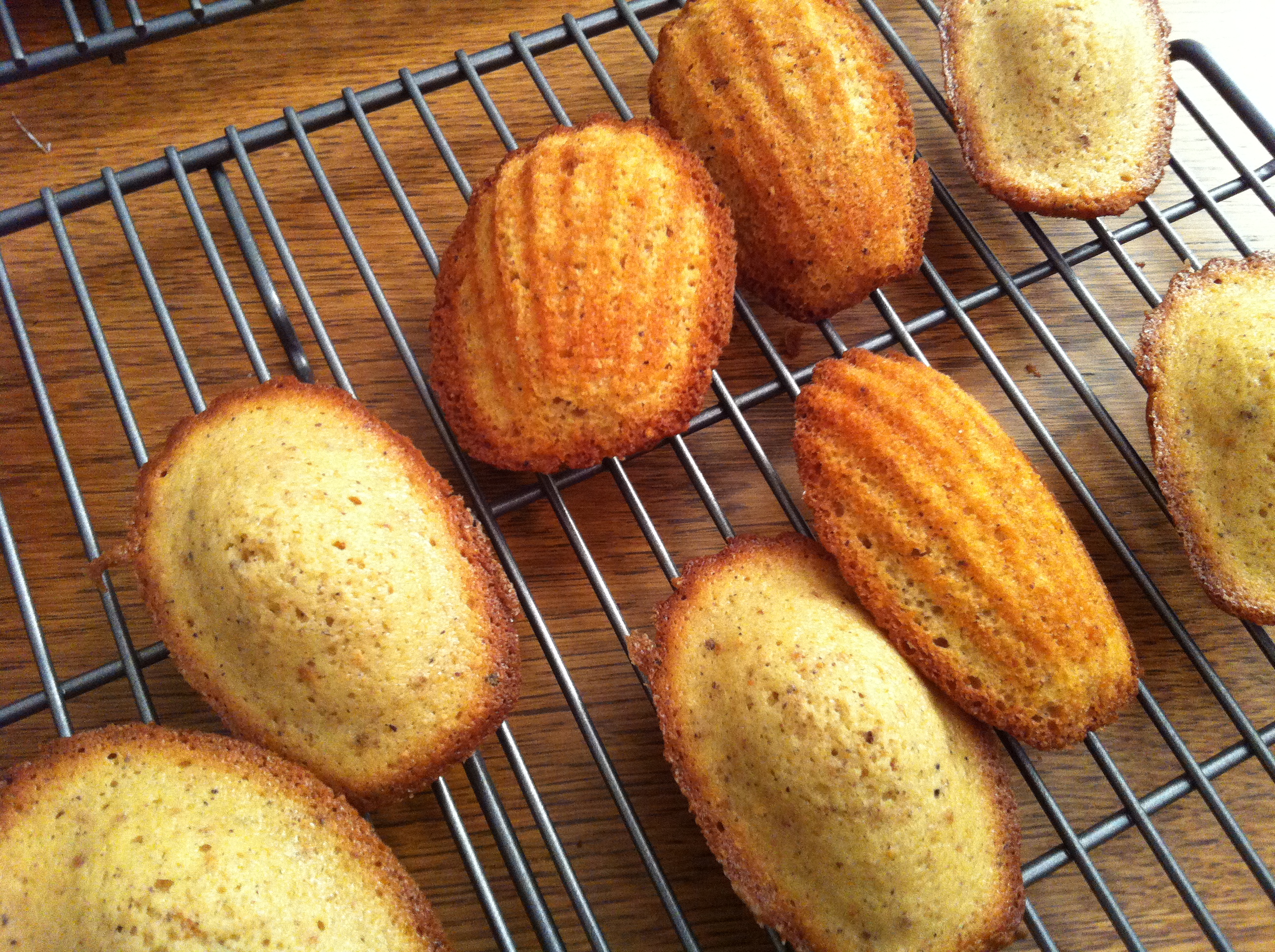 But like many great things before noon, there's a catch. You have to have this pan: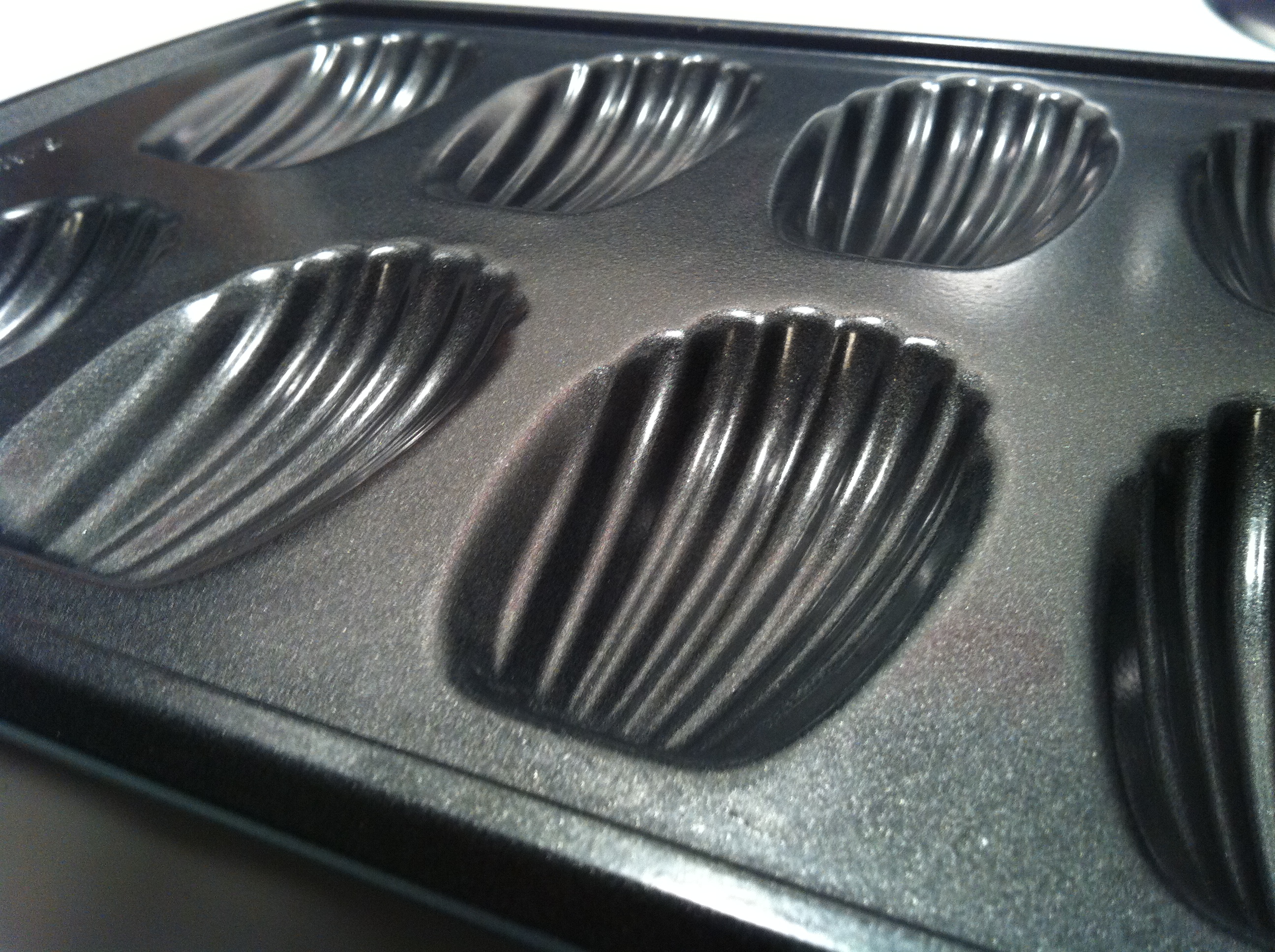 and of course, it only has one use: making madeleines. I used to be really opposed to getting single-use kitchen equipment, but when I find myself wanting to use such an item more frequently than some of my multi-use equipment, I have to cave. Especially when it imparts a unique contrast of texture - one half a smooth, soft side and the other more firm, scalloped. And no other mold, not even miniature bundt molds barely filled, have quite the right proportions to create the same intriguing springy texture.
These delightful cookie cakes start with a sponge, genoise batter, but that's just a fancy way to describe a particular preparation of butter, sugar, eggs, and flour. Making genoise isn't time consuming, but a slight bit technique complicated until you've made so many madeleines that you've got it down. It's all about learning not to over beat eggs (makes folding things in harder), folding in flour quickly, lightly, and completely (or they'll turn out clumpy or flat), and even worse, folding in butter the same way (same problems, but you're dealing with a slightly different beast). Folding in the flour is pretty easy when you make plain madeleines only with cake flour, but try that a couple of times then really go for it with my favorite variation - toasted hazelnut madeleines. You can even make the hazelnut flour yourself!
Toasted hazelnut flour
Ingredients:
Whole hazelnuts, unblanched
Preparation:
Heat oven to 375 degrees.
Place hazelnuts in a jelly roll or other baking pan. Don't stack them. Bake for 15 to 20 minutes.
Let cool and grind until a fine flour is achieved. Store in an airtight container.
Toasted hazelnut madeleines
Ingredients:
1/4 cup (1/2 stick) unsalted butter
1 egg
1/8 teaspoon salt
3/4 teaspoon vanilla extract
1/3 cup white granulated sugar
1/8 cup toasted hazelnut flour (for a more neutral but nutty madeleine, use almond flour; for the most neutral madeleine, replace with cake flour and optionally skip the baking powder)
3/8 cup cake flour
1/2 teaspoon baking powder
Preparation:
Preheat oven to 375 degrees. Butter and flour twelve 3-inch madeleine molds.
Melt butter. Let cool to room temperature. (Melting then proceeding until you need it without a break is sufficient, though not quite to room temperature.)
Beat egg, salt, and vanilla extract in a medium bowl until light and fluffy.
Gradually add granulated sugar to egg mixture while still beating at high speed. Beat until the mixture is pale and thick, roughly 6-10 minutes; ribbons should form in the bowl when beaters are moved. Once you see these ribbons, stop or you'll over beat.
Mix toasted hazelnut flour, cake flour, and baking powder. Gradually add the dry mixture to egg mixture: spread 1/3 of the mixture evenly across the batter, fold gently, and repeat until all is incorporated. Feel free to add the dry mixture more slowly; it's important to fold this correctly (very gently).
Pour the cooled melted butter around the edge of the batter and quickly, but still gently, fold the butter into the batter.
Spoon batter into the prepared molds. The batter should mound slightly above the tops, but be careful not to overfill - the edges will burn and you won't be able to break the burnt parts off without breaking the little cakes. Bake 6-9 minutes or until the cakes are golden and the tops spring back when pressed gently.
Loosen madeleines from the pan and invert onto a cooling rack.
Makes twelve 3-inch madeleines. Store in an air tight container, but know that they are best when consumed within a day.