I've never been to Sqirl, but ever since I ordered their puffed millet 'nola on a whim, I've been obsessed. All I want for breakfast these days is a bowl of this granola with some plain yogurt. UPDATE: I no longer order from Sqirl after hearing about their jam mold and the deeper problems #moldgate revealed about Koslow and Sqirl - especially the generally unsafe working conditions and flippant attitude towards the community and places that made up the Virgil Village neighborhood of LA before Sqirl moved in.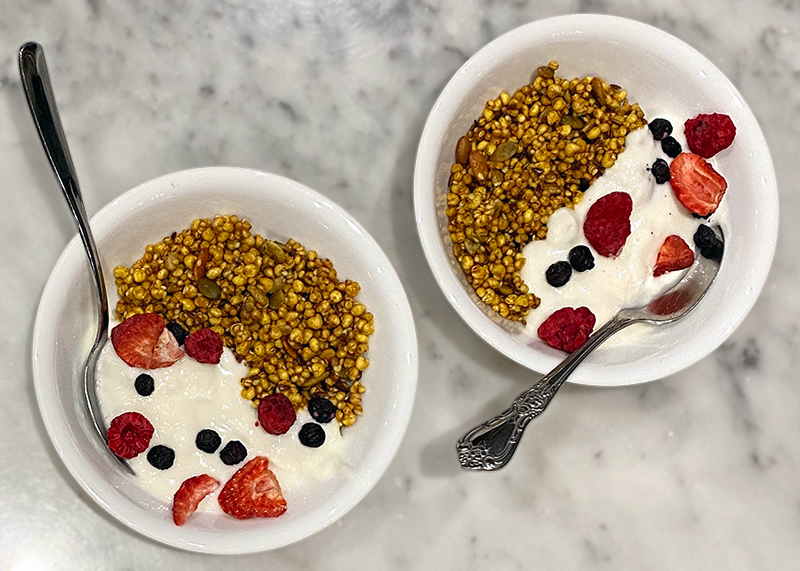 As it turns out, it's the second version of their turmeric-spiced puffed millet 'nola, and Sqirl's Jessica Koslow posted the recipe for their first version, which contains nuts and uses different sweeteners, on Instagram a few years ago. The humble but mighty millet 'nola has since made its way around the internet. I've never had the previous version, but between looking at the current ingredient lists alongside the recipe for the previous version, I figured I could come up with something close to the new version. UPDATE: There was no attribution on this recipe in Koslow's post, which implies that she created it, but given everything that came out after #moldgate, I can't be sure who created this recipe.
Instead of using a base of just puffed millet, I also use puffed quinoa because quinoa is a complete protein. I include pumpkin seeds along with sunflower seeds because I love them both. Instead of adding glucose to my pantry, I chose to make the liquid part like one does for Eleven Madison Park's granola recipe, another granola I adore. The ratio of liquid to dry ingredients is a tad lower here than in EMP's granola as there are 4 teaspoons fewer dry ingredients, but the puffed grains don't seem to want as much syrup as denser oats do.
Puffed millet and qui'nola
Ingredients
1/2 cup dark brown sugar
1/3 cup maple syrup, preferably dark color
1/3 cup extra virgin olive oil
1 1/2 teaspoons turmeric powder (I used Diaspora Co's excellent turmeric powder.)
1/2 teaspoon ground cardamom
1 1/2 teaspoons Diamond Crystal kosher salt (You can use other brands, but know that Diamond Crystal is less dense than other kosher salts.)
1/2 teaspoon baking soda, optional (if you want to caramelize the brown sugar)
2 cups puffed millet
2 cups puffed quinoa
1/3 cup raw sunflower seeds
1/3 cup raw pumpkin seeds
1/4 cup white sesame seeds
2 tablespoons brown flax seeds
1 cup freeze-dried fruit of your choice (I used a mix of strawberries, blueberries, and raspberries because that's what I found most easily, but I'm excited to use some blackberries and cranberries the next time I make this!)
Preparation
Preheat the oven to 325 degrees Fahrenheit. Line a half-sheet jelly roll pan or two quarter-sheet jelly roll pans with tin foil.
In a large stockpot (doesn't need to be huge, I used a 5 1/2-quart pot) set over low heat, stir and warm the brown sugar, maple syrup, and olive oil until the sugar dissolves.
Add turmeric, cardamom, and kosher salt. Stir until combined and bubbles. If you want to make a deeper caramel coating, let bubble a bit, add baking soda, and stir until combined. Remove from heat.
Add puffed millet, puffed quinoa, sunflower seeds, pumpkin seeds, sesame seeds, and flax seeds to the stockpot. Stir until everything is well coated.
Spread granola onto the jelly roll pan(s). Bake for 15 minutes, stirring once halfway through. Remove granola from the oven and let it cool completely (about 30 minutes).
Add freeze-dried fruit to granola (or just top granola with freeze-dried fruit when you eat it). Transfer to an airtight storage container.
Yields about 6 cups of granola. Total preparation time is about 55 minutes: 25 minutes of active preparation time plus 30 minutes for the granola to cool.