Isn't everything?
Star Wars partnered with Williams-Sonoma to make pancake molds and some rather insanely high quality cookie cutters:

The set of four includes a Yoda face and helmets from each of Darth Vader, Boba Fett, and a stormtrooper. I knew that if I ever got my hands on these, I'd have to make Yoda green tea cookies to optimize for both cuteness and deliciousness.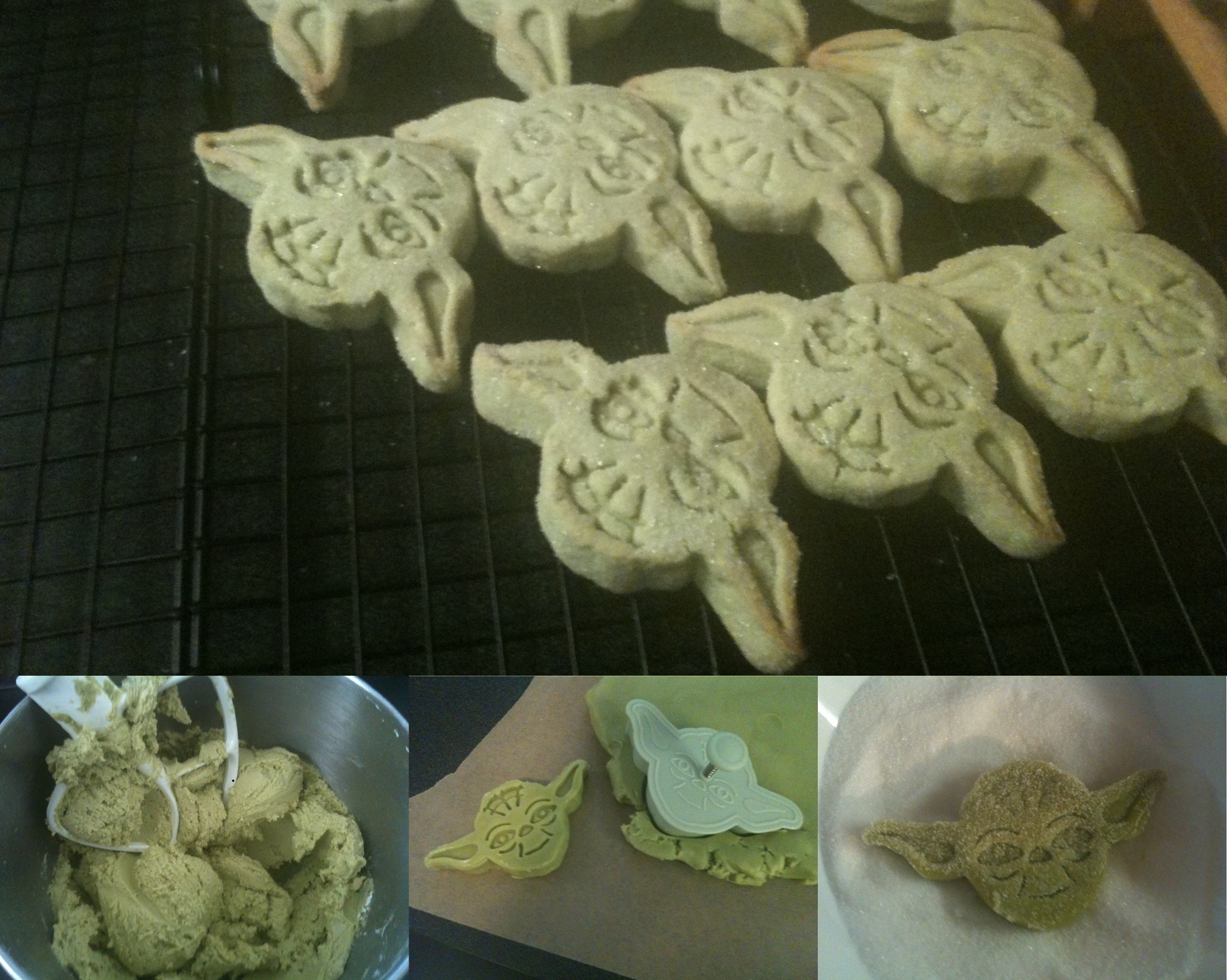 Once upon a time, there was a (really just mediocre) tea store on Newbury Street called Whittard of Chelsea. While the tea was not very impressive, they did stock these amazing tea sweet cookies by a now closed store called Amai Tea and Bake House. I can't vouch for the quality of their tea either, as I've never had it, but their green tea cookies were simply amazing.
When I found out I could no longer buy these cookies (as I mentioned, Amai closed), I decided to try and recreate these cookies by modifying a shortbread recipe. Of course, I had to add the green tea flavor, so matcha green tea powder was the obvious choice. I recommend using a latte grade matcha powder because the flavor and bitterness of tea ceremony quality matcha powder will be drowned out by the sugar in the dough. Amai's cookies were much smoother than a standard shortbread, so I used cake flour and confectioner's sugar instead of oatmeal or all-purpose flour and granulated sugar. Finally, they were clearly coated in granulated sugar before baking. You can play along with the recipe below; it makes roughly 36 Yoda cookies. These also make for some adorable Christmas tree cookies when the holidays roll around.
Green tea cookies
Ingredients:
3 tablespoons and 1 teaspoon matcha powder
1 and 2/3 cups confectioner's sugar
2 and 1/2 sticks unsalted butter cut into small (tablespoon sized) slices
3 and 1/4 cups cake flour (you can substitute all-purpose flour)
6 large egg yolks
About 1/2 cup of granulated sugar
Preparation:
Preheat the oven to 350 degrees if you don't plan on chilling the dough.
Whisk the matcha tea powder and confectioner's sugar together. Using a stand mixer with the paddle attachment, cream this mixture with the butter.
Add the flour and mix until combined. The texture should now be crumbly.
Add the egg yolks and mix until fully incorporated. The dough should now be very smooth.
Chill the dough in the refrigerator until firm and cool throughout. I usually let the dough chill overnight for convenience, but a couple of hours is definitely sufficient.
Roll the dough out until it about half an inch thick. Cut out cookies, toss each in a bowl of granulated sugar to coat, and place onto a parchment paper lined baking sheet. Bake for roughly 11 minutes at 350 degrees. The cookies are done when they have just turned golden at the edges.
Yields roughly 36 two inch cookies.