Since Summer 2020, I've been organizing with Bridges 4 People, a campaign of the Transportation Alternatives Brooklyn, North Brooklyn, and Manhattan activist committees. Bridges 4 People reimagines what the bridges that connect Brooklyn and Manhattan would look like if they focused on serving the vast majority of New Yorkers who walk, bike, and take public transit. Our campaign calls for reallocating two car lanes each on the Brooklyn, Manhattan, and Williamsburg Bridges into protected space for cyclists and for creating protected bike connections to these bridges.
Earlier this year, our campaign had its first win when Mayor de Blasio announced a car lane would be converted into a two-way protected bike path on the Brooklyn Bridge (and the Queensboro Bridge, too!). This new protected path was installed a month ago: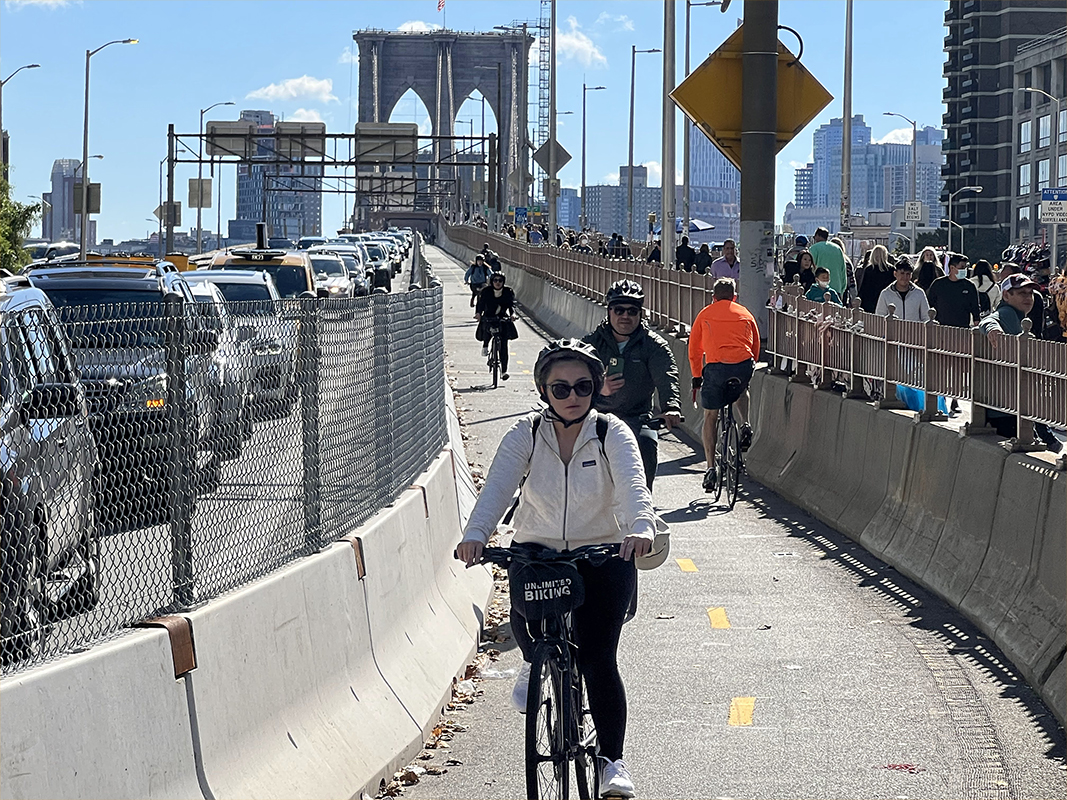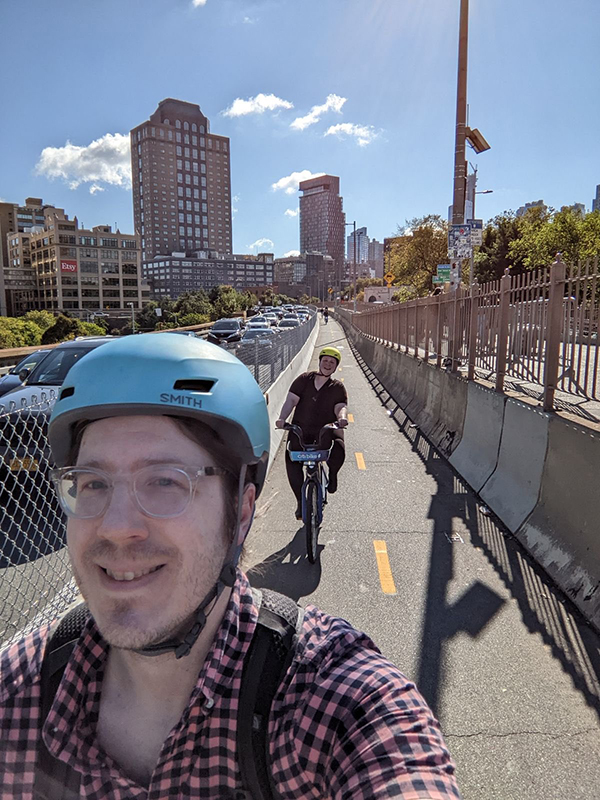 The Brooklyn Bridge's new two-way bike path finally gives enough space to the many pedestrians on the promenade of New York City's most iconic landmark, but another lane still needs to be reallocated to cyclists so there's enough space for cyclists to truly cross the bridge safely. An 8-foot wide two-way bike path simply isn't a wide enough for cyclists riding at different speeds, families biking with young children, anyone with a lot in tow on a wide cargo bike, and unlucky riders who have to deal with their bikes breaking down.
There's a lot more work to do before our bridges serve the majority of New Yorkers who do not own cars, and I wrote an opinion piece, Brooklyn Bridge Bike Lane Is Only the Beginning of 'Bridges 4 People,' with two of our campaign's other leaders about what New York City needs to do next:
The new Brooklyn Bridge lane is an important first step, but much more is needed: Now is the time to build on that momentum with bold infrastructure changes. We are facing a record-breaking year for traffic violence and need a truly connected bike network across the city that enables cyclists to plan trips entirely along protected routes. This new connected network would feature wide protected bike lanes that meet national standards on all the bridges that connect our boroughs, including the East River bridges, the Verrazzano-Narrows Bridge, and the Washington Bridge.