I often find myself cooking, or sometimes even baking, without recipes or even measuring cups and spoons. The latter, especially with baking, is some linear combination of adventurousness - things haven't gone badly yet as I have always managed to produce the results I've wanted - and laziness - I'd have to commit to measuring out each ingredient as I go each time I "tweak" which sometimes ends up about three times per ingredient. The former, however, is a result of only adventurousness - trying new things in a purely experimental way without the comfort of a recipe to fall back on - and comfort level in the kitchen - once you've mastered the basic techniques and understand what spices and foods produce what flavors, it's all a matter of bringing an imagined combination of textures and flavors from your mind to the plate. But sometimes, it's good to formalize the process and write things down anyway.
This recipe's creation begins over dinner with three friends at Craigie on Main. Before you wonder how three recent college graduates and myself could afford to eat there: we decided to dine there because we heard great things about the burger (18 dollars, plus another 2 for delicious thick cut bacon). Less fortunately for our wallets, that didn't stop us from ordering an appetizer a person, each almost the price of the burger, and a fancy bottle of wine. Two of us, myself included, had a tuna sashimi salad to start, and the other two opted for the Vidalia onion soup.
Based on the accompaniments, it wasn't clear if the Vidalia onion soup was cream-based or of a softer French onion type variety. Honestly, we didn't really care because either sounded delicious. It turned out to be of the creamy variety, and it was rich but light and flavorful but not overpowering.
"You know, guys, I can make this," and their eyes light up a little.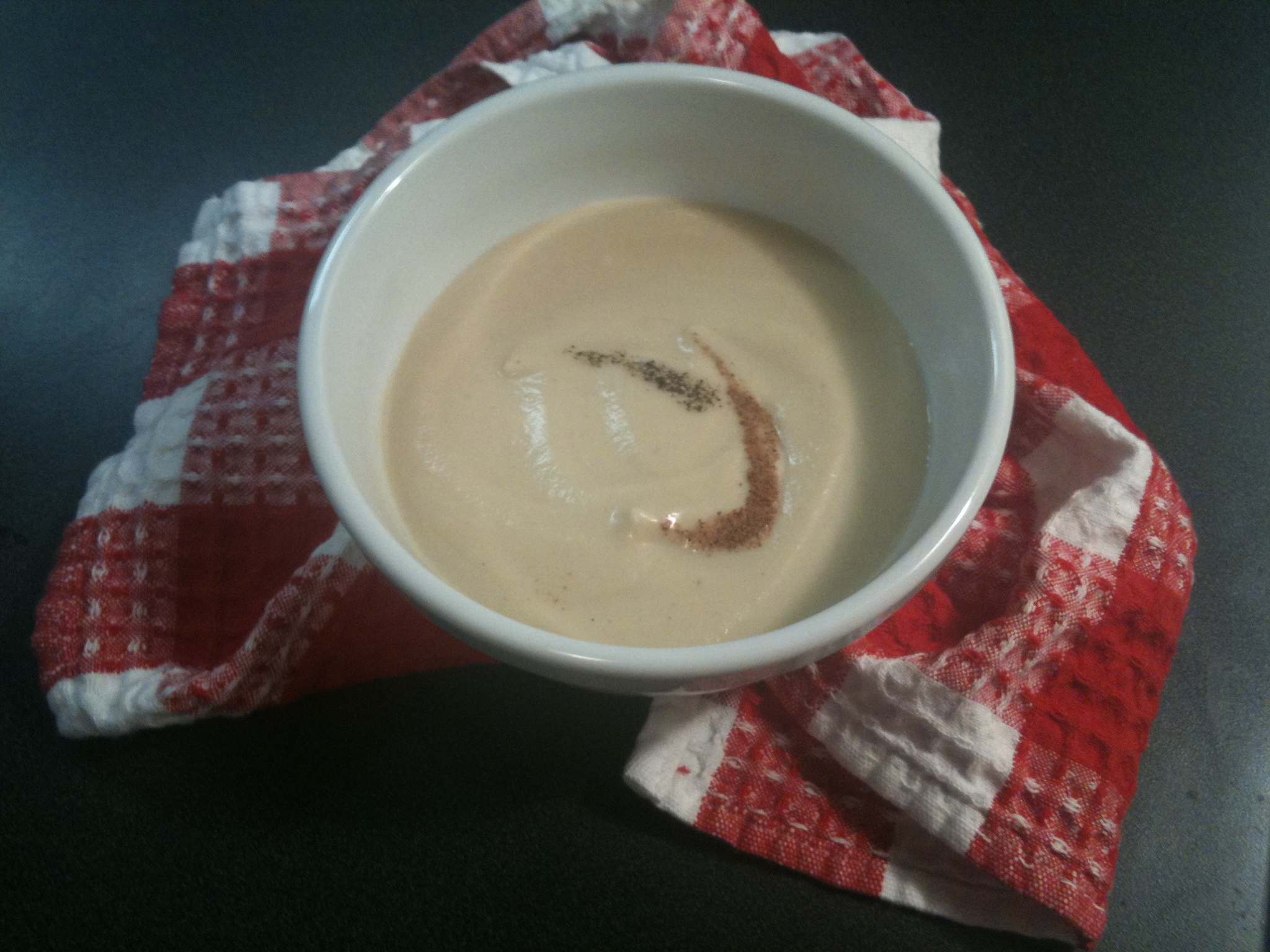 After the idea was born, it began with caramelizing onions. Caramelizing onions breaks down their sugars; the process results in a tender, sweeter, dark brown savory treat. Every good cook who does this regularly seems to have his or her own set of variations on the basic technique. Personally, I like to sweat the onions first to separate the water from the onions because it lowers the risk of burning the bottoms black and retains more of that "true to onion" flavor by requiring less oil and butter to achieve caramelization. However, it's a trade-off because sweating increases the amount of time it takes to cook them.
But the process wasn't as simple as idea to paper to stove top to plate - or bowl, I suppose. The first time I made my version of this soup, it could have turned out better. The vegetable stock I used was surprisingly salty: when it combined with the salt needed to sweat the onions, I am embarrassed to say that it burned the tongue. I corrected this by adding a good deal more cream and butter, but it lost the subtler creamy nature and some of the soft but powerful caramelized onion flavor. I recommend using a good vegetable stock - I really like the one at Trader Joe's - to avoid this problem.
The second time around had another advantage over the first attempt: a new tool in my kitchen, the immersion blender. I cannot begin to tell you how much of a difference that made. Forget just about how much easier it made the soup crafting process, and I'll be the first to tell you that transferring soup in batches over to a counter top blender is quite the pain. Instead of getting a barely blended soup with the texture of consistently very finely chopped onions mixed with cream and stock, I could create a completely pureed, almost fluffy texture that would hold small peaks similar to the stiff peaks you get when beating eggs.
The following is the final recipe.
Creamy Vidalia onion soup
Ingredients:
1 and a half teaspoons olive oil
1 and a half teaspoons unsalted butter
4 Vidalia onions
Kosher salt
3 shallots, diced
4 ounces white wine
2 cups vegetable stock
1 cup heavy cream (can substitute 1/2 cup with milk)
White pepper
Nutmeg
Black pepper and extra nutmeg for garnish (optional)
Preparation:
Melt the unsalted butter over low heat. I prefer to do this in the pot I will be making the soup in so as to minimize cleaning later on, but that's not necessary. Once melted, add the olive oil. Remove from heat.
Slice off the root and top ends of the onions and then peel them. Cut the onions in half. Lay them cut side down and slice the onions lengthwise so that they are about a quarter of an inch thick. You'll be pureeing the soup later, so consistency in size is important only to ensure they cook uniformly.
Toss the onions in the olive oil and butter mixture and coat lightly in kosher salt. Place in a large, heavy bottomed pan, cover, and put over high heat. I prefer to use a deep pot large enough to hold the final soup for fewer pans to clean, and I even conveniently have one that has a clear lid, which makes checking on the sweating onions much easier. This is the phase where you sweat the onions, so you will be leaving them over high heat until a pool of their sweat is in the bottom of the pan. That takes anywhere between about 5 and 10 minutes, depending on how large and deep of a pan you use. You may also need "swish" the pan every few minutes so onions which have let out most of their water don't stick to the bottom and burn. Once the onions have sweat sufficiently, turn down to medium low heat with the cover still on to prevent burning the onions.
After the onion sweat has stopped bubbling, about 2 minutes after turning down the heat, remove the lid. Stir in the diced shallots so that they are coated in the oil, salt, and onion sweat mixture. Let the onions and shallots cook, stirring up off the bottom frequently, so each onion piece gets roughly the same amount of time in contact with the bottom of the pan.
After about 30 minutes, the onions should have reduced in size and should be well on their way to caramelizing. The shallots should be translucent and slightly smaller. At this time, add the white wine and increase the heat to medium. Continue cooking down the onions, stirring frequently, until you are satisfied with their color. I usually cook them for another 30 to 45 minutes. Be careful not to cook past a mahogany color, because they are very likely to burn then.
Add the vegetable stock and use an immersion blender to mix together to roughly the desired consistency - remember that you still will be adding the cream to the soup when considering texture. Personally, I like the soup really light, so I blend very thoroughly.
Once the soup is hot throughout, remove from heat. Stir in the heavy cream, and add white pepper and nutmeg to taste.
Optionally garnish with black pepper and slightly more nutmeg.
Yields about 4 servings.