Joelle Hoverson designed another blanket that follows a similar construction as the Library Blanket, so I figured I'd make another color picking tool for the new Side Street Blanket. The varied blocks in this blanket are also made by holding different pairs of yarns together, so this tool can be used to help imagine how a different yarn palette would knit up.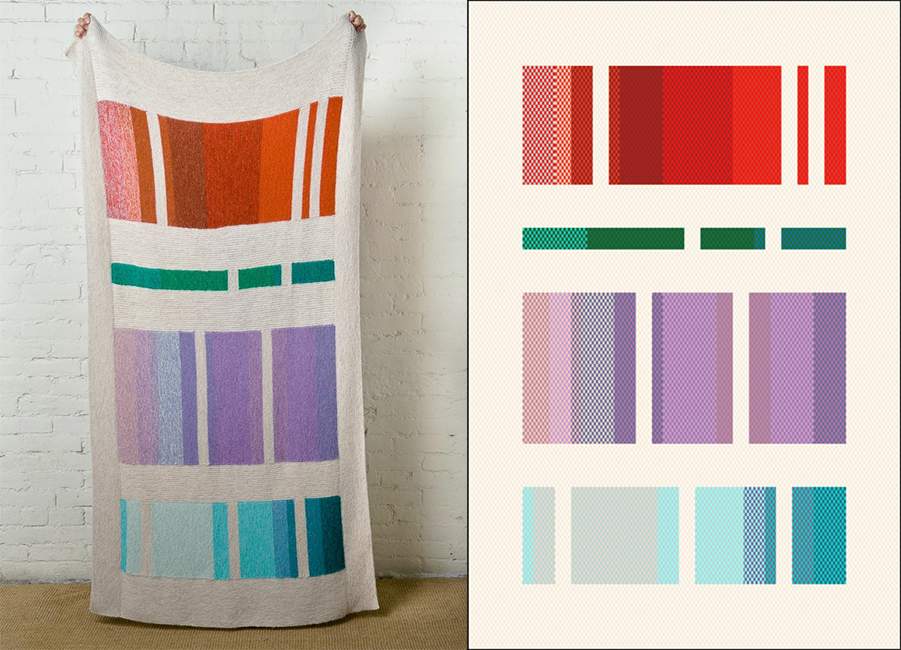 The tool will also generate the color combo list for the yarn names given, so you know which two yarns are held together in each block.
As with the Library Blanket color picking tool, I've included the original color palette stated in the pattern, and you can also create your own palettes either by selecting Purl Soho Line Weight or Linen Quill yarns from the dropdowns or by entering custom yarns in the text and color input fields. For each of the Purl Soho yarns in the dropdowns, I selected a hex color I felt corresponded well to the photo of that colorway. (Of course, a single color doesn't fully capture the subtleties in these yarns, and you may think a different hex color better matches a colorway than the one I chose! If you'd rather use a different hex color for a yarn, you can input it like you would for a custom yarn.) To preview this pattern with different yarns than the two Purl Soho specified in the pattern, you can enter your own yarn names and hex colors.
When you update any of the fields in the tool, the Side Street Blanket rendering and color combo list automatically update below.
Side Street Blanket rendering:
Color combo list: