I don't have a lot of complete memories from my childhood. Somehow, my photographic memory didn't kick in until the middle of seventh grade, when all of a sudden I started to remember everything. Sadly, everything from before that time is either a blurry film played a fifteen times the normal speed or a small set of photographs picked from an album that fail to tell a story. But sometimes the couple of photographs can be pieced back together to make something that resembles cohesion, even if they can't form an actual story.
Sometime in either kindergarten or early grade school, my class took a field trip to some reasonably famous breakfast place (I'm terrible at putting this part of the story together) where we helped the kitchen make apple pancakes then ate them with our classmates. I remember peeling and slicing the apples, playing with some dough, and arranging dough in a lattice on top of what now seems to be more like a pie than a pancake. I can even faintly smell the scent of granny smith apples against a tin-toned industrial kitchen.
Then for about fifteen years, I had not seen or even heard about apple pancakes.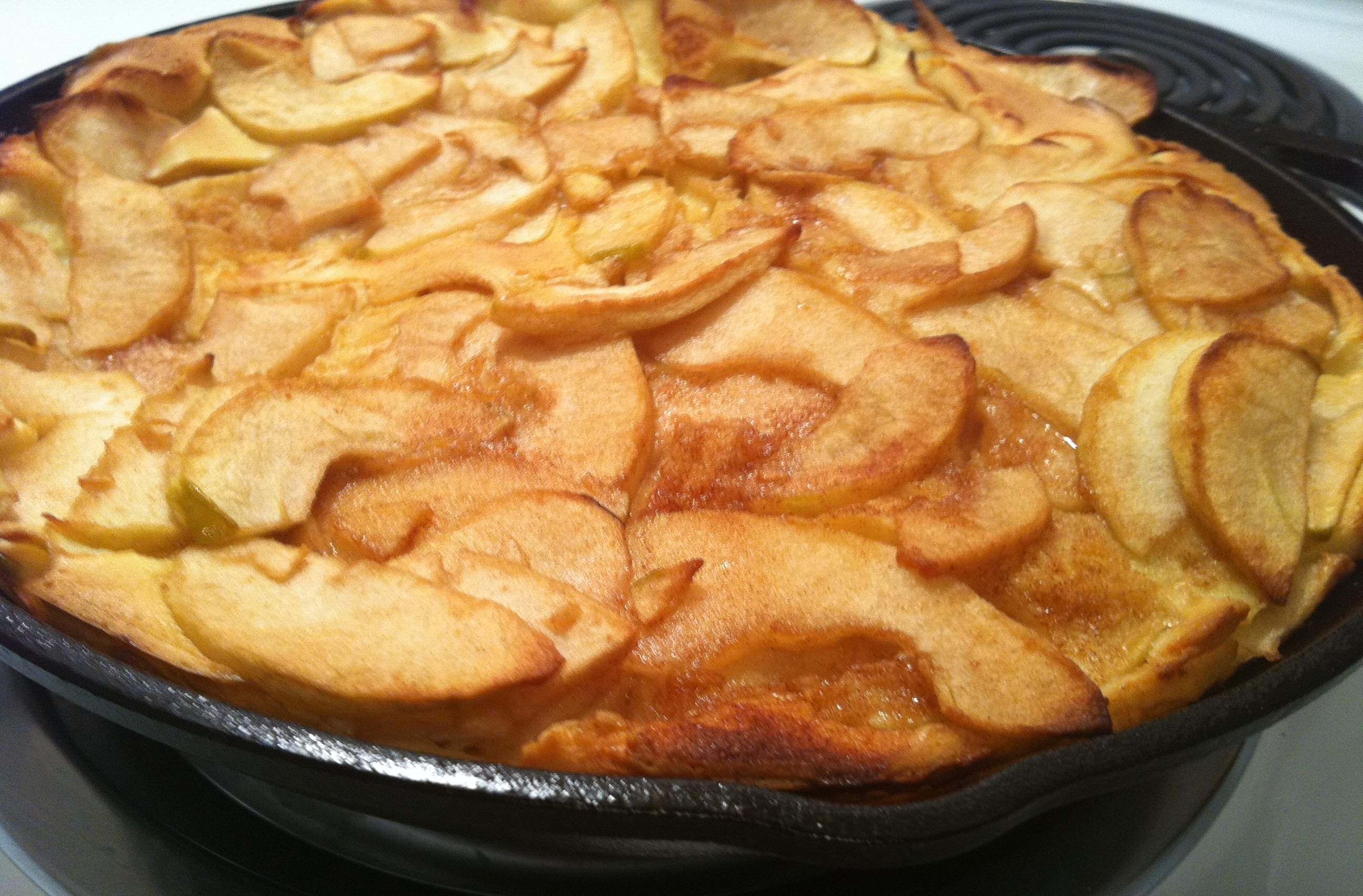 Until I wanted to make more foods, especially everyday baked foods, in my cast iron frying pan. And it all came back to me, even though my baked apple pancake just seems lighter and less rich overall (or maybe I'm just nostaglic).

While it may not feel as decadent of that pancake so many years ago, it's easy to be enticed by its easy, simple pleasure. Melt a small amount of butter into a cast iron frying pan, slice and lightly sauté a couple of apples, whisk together batter, assemble, stick in the oven, take a long hot shower, and when you're out, there's an aromatic, fluffy pancake waiting to start your day.
Baked apple pancake
Ingredients:
3 tablespoons unsalted butter
2 Granny Smith apples, cored and cut into thin slices
1/2 teaspoon ground cinnamon
1/4 teaspoon ground ginger
1 tablespoon brown sugar
2 eggs
1/2 cup all-purpose flour
1/2 cup milk
1/2 teaspoon salt
Preparation:
Preheat an oven to 400 degrees. Butter a 10-inch cast iron pan, braiser, or other oven safe pan.
Melt 1 tablespoon of the butter in a frying pan over medium heat.
Add the apple slices, cinnamon, ground ginger, and brown sugar. Sauté until the apples begin to soften and brown, which takes about 5 to 6 minutes, then set aside.
In a medium bowl, beat the eggs. Add the milk, flour, and salt to the eggs and whisk until blended well.
Melt the remaining 2 tablespoons of butter. Add the melted butter to the egg mixture and whisk until smooth.
Pour the batter into the prepared pan; then arrange the apple slices evenly on top. Bake until the pancake is lightly browned and has puffed up, about 25 minutes.
Makes 4 servings.