Once upon a time, I stumbled across a reasonably accurate Szechuan recipe for dan dan mian. This isn't it.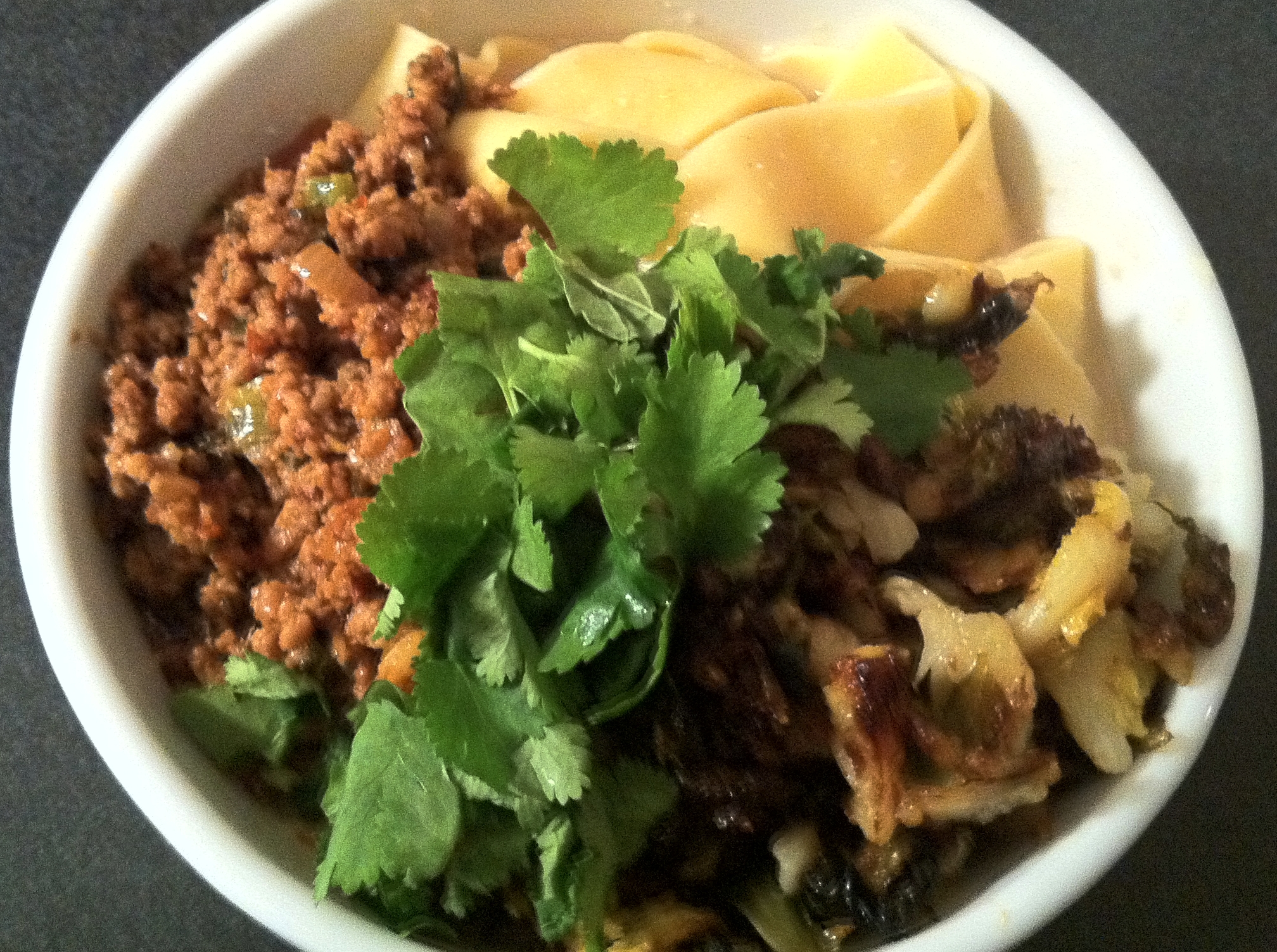 In fact, I've never actually made it because I couldn't acquire all of the ingredients without going out of my way. Also, I don't really like committing to making a certain meal while in the store (ratatouille being a notable exception), so for dan dan mian to actually grace my stove top, it needed to use only things that I would have around with reasonable probability or that I could buy once and use many times (like chili paste).

The recipe I used is at most inspired by Szechuan dan dan mian. Actually, it started off reasonably authentic, at least to my knowledge. But then I added a large splash of soy sauce to the pork and couldn't find non-whole-wheat noodles in my cabinets that weren't (clearly too wide) pappardelle egg noodles. I did, however, actually have pork stock for making the broth because I had made pork dumplings the weekend before.

The biggest departure happened when I added the greens, as I'm pretty sure Brussels sprouts sautéed in bacon fat don't really count as authentic Asian of any sort. I found that cutting them into quarters lengthwise helped them break down into smaller parts: I don't usually desire this from my Brussels sprouts, but it made them easier to eat in a chopstick-sized bites with the rest of the dish. The flavoring of the sprouts didn't make the dish feel overwhelmingly less true to form (though who am I to really know; I'm clearly not Chinese), but the texture was definitely something foreign to this type of food.
While this meal may not make sense to those who hold traditional Szechuan cooking close to their hearts, it was a hearty, delicious meal of which I was excited to have even a teeny tiny bit leftover for the next day's lunch.
"Dan dan mian"
Ingredients:
For the meat:

2 tablespoons sesame oil
1/3 cup scallions, green and white portions finely chopped
1/3 cup onions, finely diced
2 tablespoons garlic, minced
2 teaspoons ginger, peeled and minced
1/2 pound ground pork
2 tablespoons soy sauce
3 tablespoons chili paste
Black pepper

For the broth:

3 tablespoons good peanut butter with a bit of crunch
1 tablespoon sesame seeds
1 teaspoon sesame oil
3 cups pork (or chicken) stock
Salt

For the Brussels sprouts:

~10 Brussels sprouts, rinsed and quartered lengthwise
2 tablespoons bacon fat

8 ounces noodles (any kind works, I used pappardelle egg noodles)
Chopped fresh cilantro
Preparation:
For the meat:

Heat the sesame oil in a sauté pan over medium heat.
Once the pan is hot, add in the scallions, onions, garlic, and ginger, ands sauté for roughly five minutes or until the onions and ginger are slightly softened.
Add the pork, soy sauce, and chili paste. Stir fry until pork is thoroughly cooked.
Add black pepper to taste, mix well, and set aside.

For the broth:

Heat the stock over medium high heat until it begins simmering.
Meanwhile, add the peanut butter, sesame seeds, and sesame oil to a food processor and pulse until blended. The sesame seeds should end up finely chopped and the peanut butter should be more smooth though not completely smooth.
Once the stock has begun simmering, ladle about a half cup into the peanut butter and sesame mixture and pulse again until well blended. This prevents the broth from being clumpy.
Add the peanut butter and sesame mixture to the rest of the broth and turn heat down to medium.
Add salt to taste and simmer for about ten minutes; then, turn down heat to low so that it doesn't reduce too much. For an exceptionally smooth broth, optionally blend for a minute with an immersion blender (or pour mixture into a stand up blender then return to the stove).

For the Brussels sprouts:

In a small pot of salted, boiling water, blanch the Brussels sprouts until tender. Drain.
Sauté in bacon fat until crisped and browned. Set aside. Note that the sprouts will probably fall apart - this is actually desirable because they will mix better with the ground pork as topping for the noodles.

In a pot of boiling water, cook the noodles according to their instructions. Strain.
Divide the noodles between two large bowls. Ladle in broth. Top with the meat and Brussels sprouts and garnish with cilantro.
Makes 2 servings.