I don't blog that much about savory food: savory food for me is even more technique-based than recipe-based, so I find it limiting to discuss one dish because it's a particular combination of techniques on a very particular set of ingredients. But I really enjoyed this particular butternut squash combination, so I'll settle for describing it without measurements.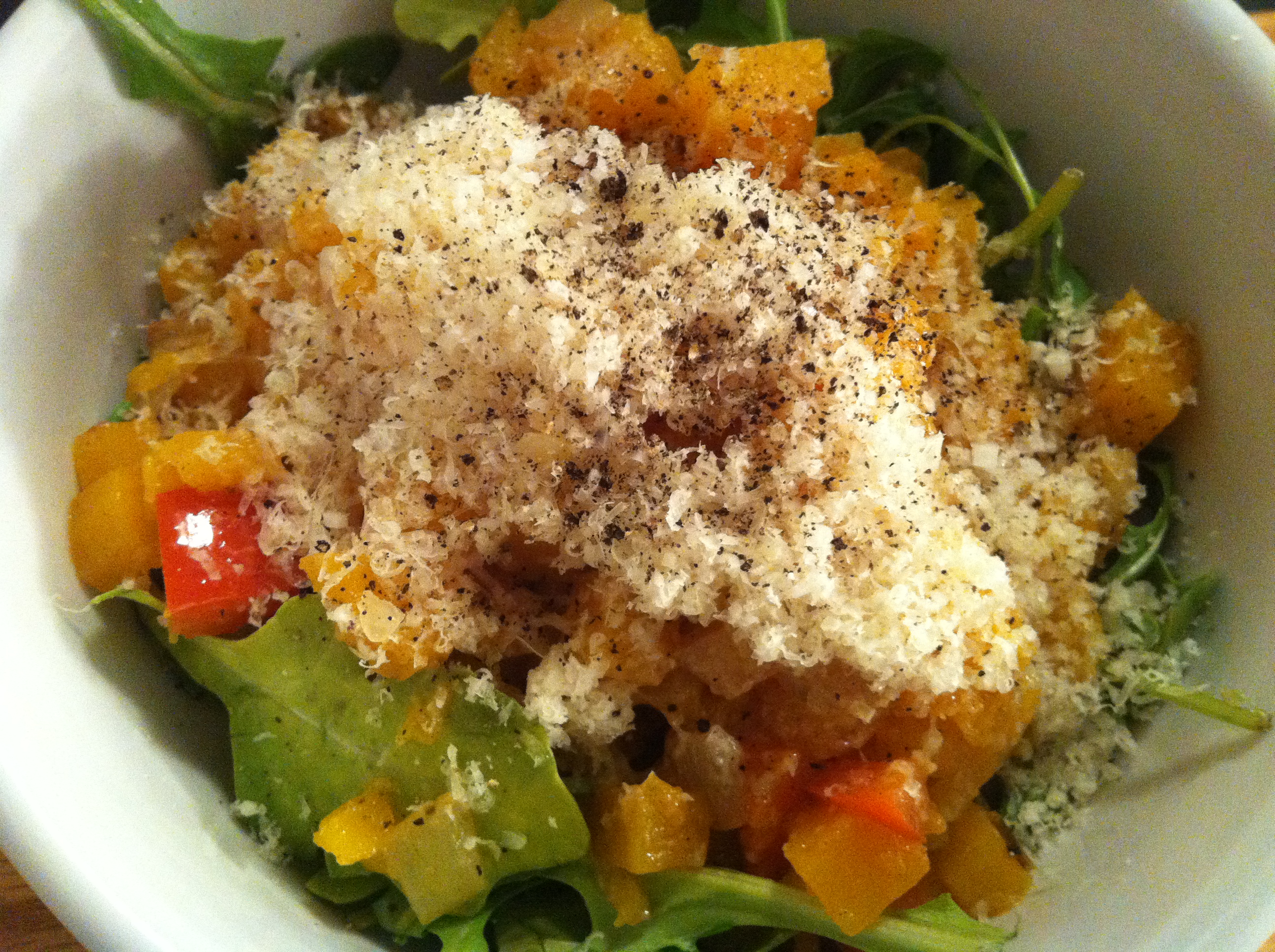 The above is steamed butternut squash with lightly caramelized onions and red and orange bell peppers with a cinnamon sage brown butter sauce on a bed of arugula, which I assure you sounds much more complicated than it actually is.
It actually started off two nights before as a sauce for fresh sweet potato gnocchi. I'm not completely sure what inspired me to make that combination because it had the failure mode of most gnocchi I want to make: too many vegetables, not enough emphasis on the gnocchi itself. I guess I'm just not one for snarfing down a bowl of pasta on its own because I never manage to feel anywhere between unsatisfied and overstuffed from mostly starch. But then I remade it again precisely the same without the gnocchi and loved it.
Butternut squash with cinnamon sage brown butter
Ingredients:
Onions, diced
Olive oil
Unsalted butter
Red bell peppers, diced
Orange bell peppers, diced
Fresh sage, finely chopped
Ground cinnamon
Butternut squash, diced
Arugula
Parmigiano Reggiano cheese
Fresh ground black pepper
Fleur de sel or other coarse sea salt
Preparation:
In a small saucepan, lightly caramelize the onions in a little olive oil and butter until a pale brown.
Add more butter to the saucepan, and cook on medium heat until browned. Watch carefully to avoid burning the butter.
Lower the heat and add red and orange bell peppers, sage, and cinnamon. Cook until flavors meld then remove from heat.
Boil or steam the butternut squash in another pan until tender. (You could also pan roast the the butternut squash in the sauce over low to medium heat, but it will require more butter than cooking the squash separately.)
Layer arugula, butternut squash, and onion pepper brown butter sauce. Grate Parmigiano Reggiano cheese over the top and finish with black pepper and fleur de sel.