Cocoa brownies are pretty magical, i.e. particularly good at staying soft and gooey, and Alice Medrich's ingredient list is nearly flawless. (Okay, okay, I can never truly stick to a recipe as written. Here, I prefer a little more vanilla extract and like to put a pinch of flaky sea salt on top just before baking for bursts of salty goodness.) But I find the listed prep a little too intensive to do as regularly as I like to make brownies - who really wants to deal with a double boiler to melt the butter along with the cocoa, sugar, and salt? Isn't a large part of the appeal of using cocoa that you don't have to fuss as much with heating ingredients because you're not worried about burning chocolate?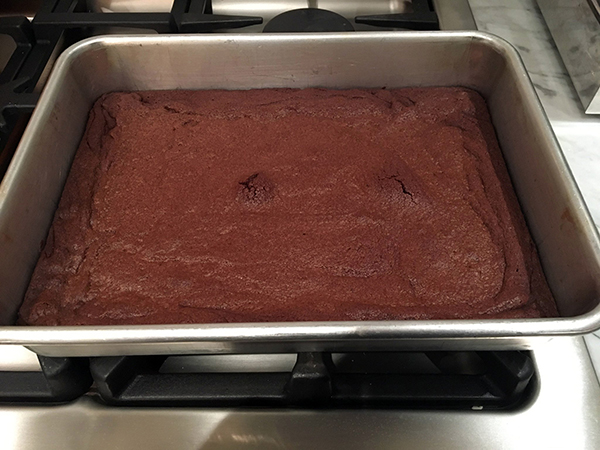 I simplified the prep and didn't notice a difference in the final product. (Okay, I admit I didn't do a double blind brownie tasting study, but I'd like to think I have a fairly discriminating palate when it comes to brownies.) Sometimes I use weight measurements, but since brownies are forgiving, I usually default to using volume measurements. Sometimes I use unsalted butter like Medrich's original recipe calls for, but more often, I don't have it on hand and use the salted butter I have and skip the salt in the batter. You could add 2/3 cup of chopped nuts after stirring in the flour if you want, but since one of my closest friends is allergic and he's often over to help consume my baked goods, I haven't done this yet.
Alice Medrich's cocoa brownies, simplified
Ingredients:
10 tablespoons (140 grams) unsalted or salted butter
1 1/4 cups (250 grams) white granulated sugar
3/4 cups + 2 tablespoons (80 grams) unsweetened cocoa powder (natural cocoa powder makes fudgier brownies than Dutch-process - honestly, I usually use Nestle Toll House Baking Cocoa)
1/4 teaspoon Kosher salt if using unsalted butter
1 teaspoon vanilla extract
2 large eggs
1/2 cup (65 grams) bread or all-purpose flour (you don't really need to sift it or use weight measurements with something as forgiving as brownies, but don't pack it tightly)
A pinch or two of flaky sea salt (I use Maldon) to top
Preparation:
Preheat the oven to 325 degrees F and place a rack in the middle of the oven.
Butter an 8-inch square baking pan (or just spray it with cooking oil). If you're doubling the recipe, use a 13x9-inch pan.
Melt the butter. (I usually do this in a microwave on medium power.) Pour it into a large mixing bowl. (You may be tempted to melt the butter in your mixing bowl if it's microwave safe. Resist this temptation because you don't want the eggs to cook because the bowl is hot when you add them a couple steps later.)
Stir in the sugar with a spatula.
Stir in the cocoa powder and salt.
Stir in the vanilla extract.
Crack the eggs into the bowl, break their yolks with the spatula, and stir them into the batter.
Stir in the flour until combined. The mixture might be a bit gritty, but this is normal.
Spread mixture into the pan - you will probably need to smush it down with the spatula.
Sprinkle the top with flaky sea salt.
Bake until a toothpick comes out only slightly moist, about 20 to 25 minutes. (If you are using convection, it will likely be more like 18 to 20 minutes.)
Let cool, cut, and enjoy!
Yields about 16 very rich and delightful brownies. Total preparation time is about 35 minutes.