Remember how I was craving chocolate chip cookies not too long ago? Well, the ricotta chocolate shavings cookies didn't satisfy that craving for long - probably because I was craving deep dark chocolate in a rich buttery dough.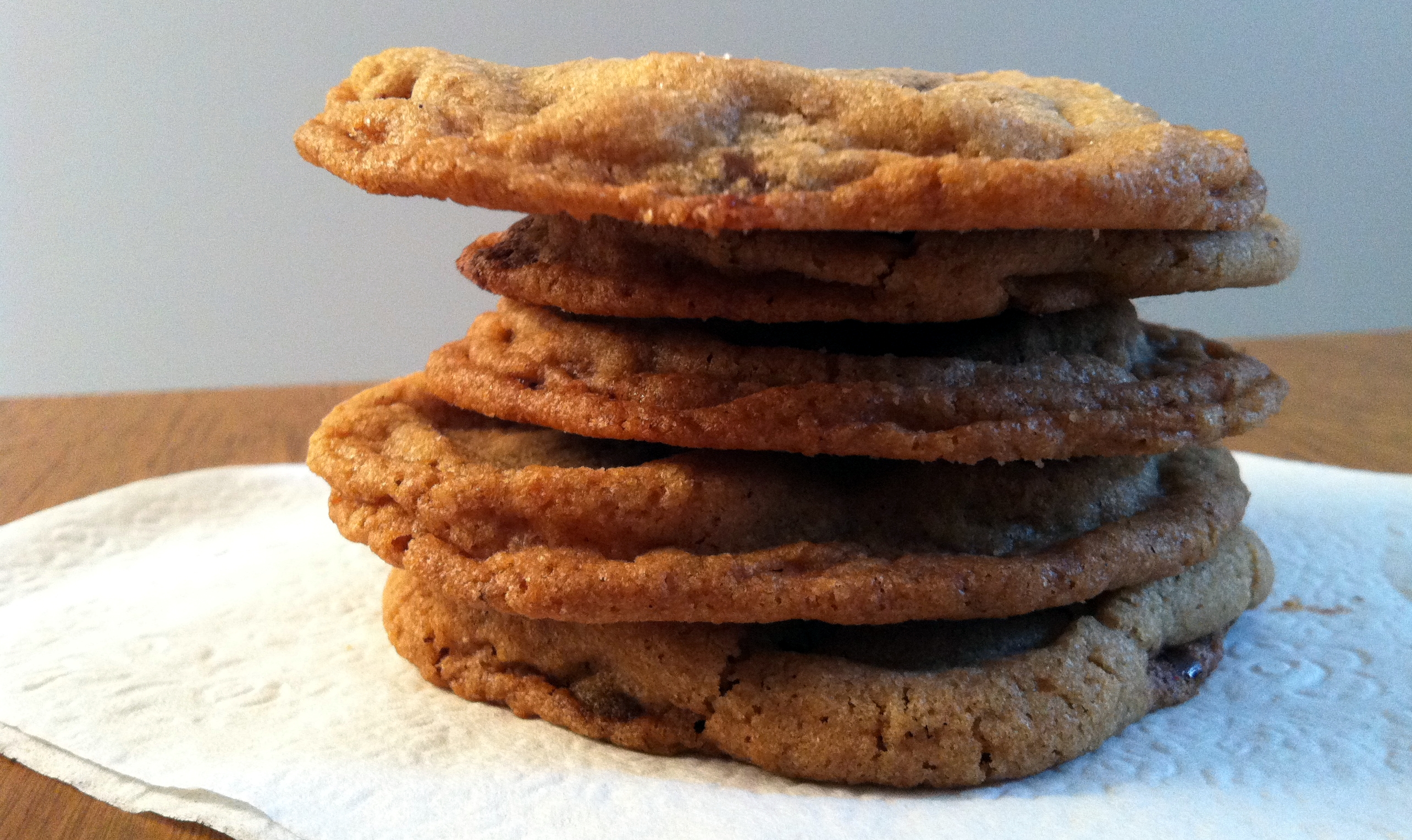 Normally, I make chewy chocolate chip cookies that I expect to stay moist for a couple of days, which is a couple of days longer than the expected amount of time before they disappear. But yesterday morning I woke up wanting something with more of a crunch - and the comforting scent of freshly baked cookies to help me wake up.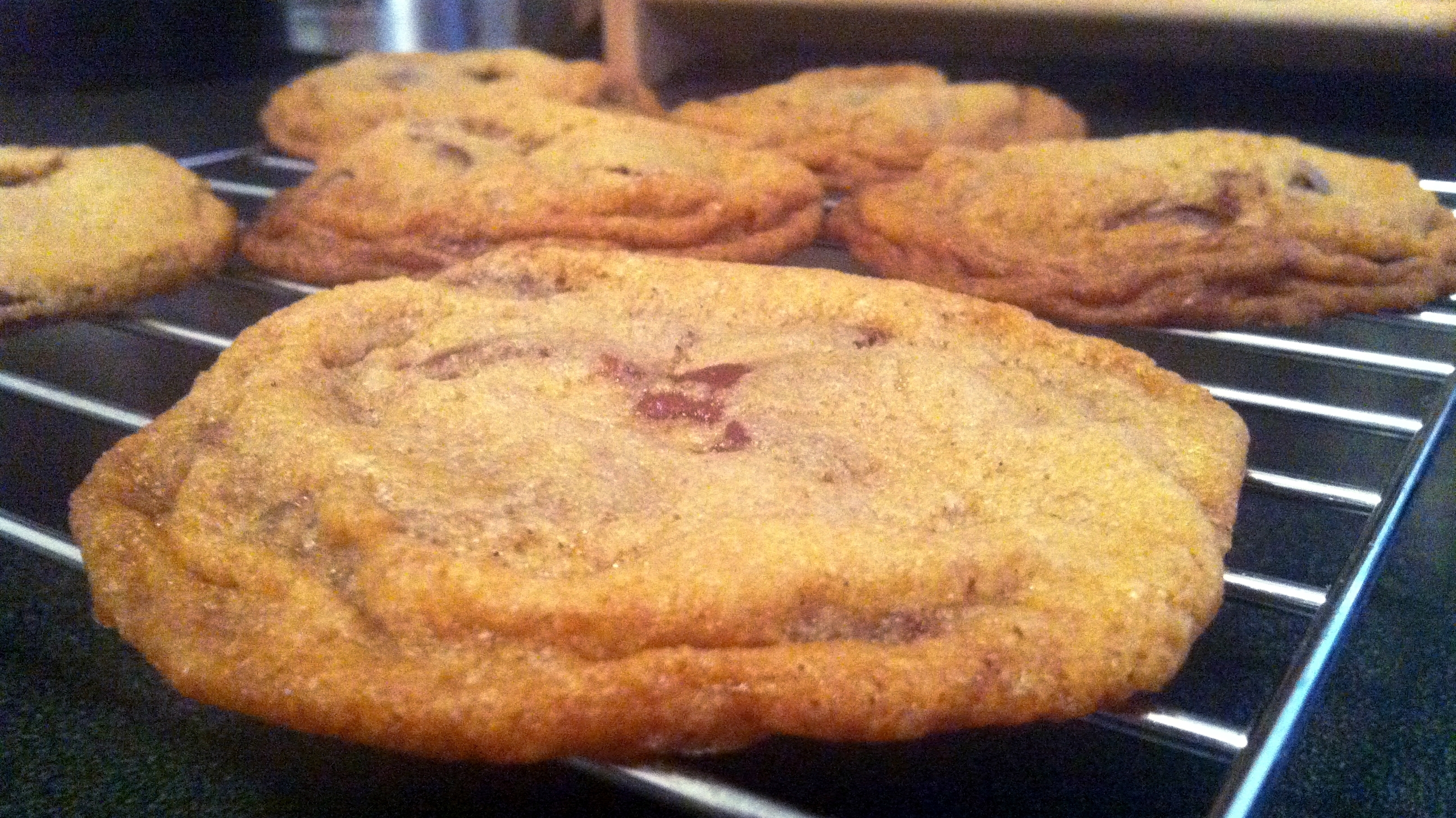 So I took my normal chocolate chip cookie recipe, increased the sugars and decreased the flour and number of eggs. Due to these changes, the dough looked and felt significantly less firm than a typical chocolate chip cookie. But this softness helps the cookies spread so that they bake thin and crispy, so whatever you do, don't chill the dough! If you do, they won't melt down and spread as evenly, which results in burnt edges.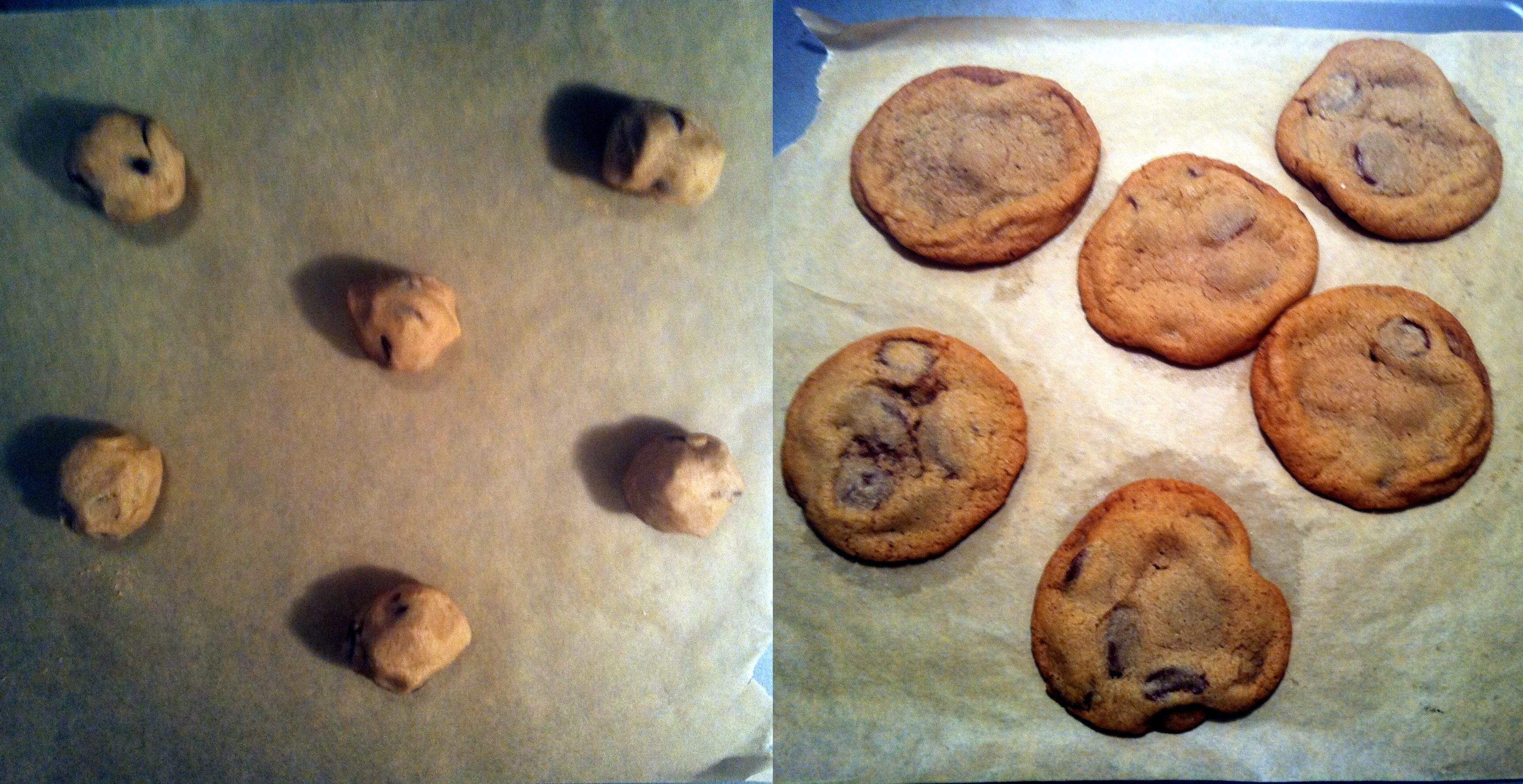 Crispy thin chocolate chip cookies
Ingredients:
1 cup (2 sticks) unsalted butter softened (you shouldn't use melted anyway, but you really cannot cut corners and use it here as dough will definitely not come together)
1 cup granulated sugar
1 cup packed brown sugar
1 egg
2 teaspoons vanilla extract (I actually used vanilla bean paste)
1 1/2 cups all-purpose flour
1 teaspoon baking soda
2 teaspoons kosher salt
2 teaspoons cinnamon (I love cinnamon in chocolate chip cookies, but if you're not used to it, I'd use a lesser amount to start)
1/8 teaspoon nutmeg
1 2/3 cups good quality dark (yes, darker than semisweet is my favorite) chocolate chips
Preparation:
Preheat oven to 350 degrees. This temperature matters oh so much, and your oven really needs be preheated.
Cream together butter and sugars until light.
Add egg and vanilla extract and mix until well combined.
Add flour, baking soda, salt, cinnamon, and nutmeg and mix until well combined.
Fold in chocolate chips by hand so that they are evenly distributed.
Place golf ball sized balls of dough on a parchment lined cookie sheet. These cookies do spread, so you probably only want 6 to a normal cookie sheet. Do not chill this batter first - it will spread out too slowly if you do. Bake for about 10-12 minutes or until golden brown on the top rack only. Rotate halfway through if your oven does not heat very evenly--these cookies have a very high butter and sugar to flour ratio and are thus very temperature sensative. Let cookies rest for a couple minutes before transferring to a wire rack for cooling.
Yields 30 three-inch cookies that are rich, thin, and crispy.