I've been getting into baking bread a lot lately instead of focusing more on the sweet and pastry side of things. While I've been enjoying making fresh sourdough from fresh sourdough starter and love the end results, I sometimes find that basic breads are a lot of kneading (read: hard on my wrists) with little creativity (read: delicious but a bit boring to make).
But then something really similar to this pretty loaf I made earlier today popped up in my RSS feed: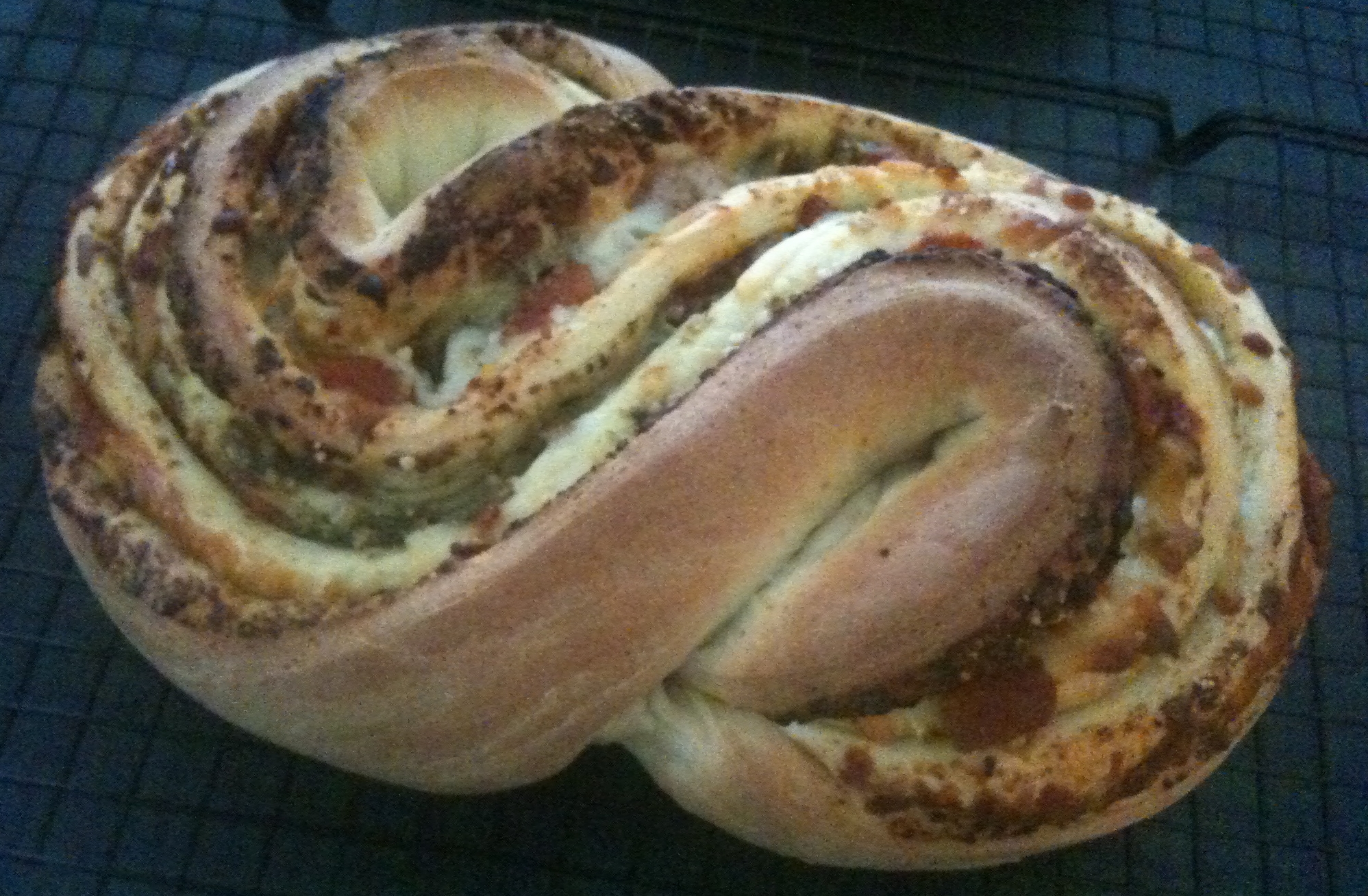 Naturally, I decided that I had to make it; I was dying to make a bread with such a beautiful and creative shape. However, I didn't have sun-dried tomatoes already, so I faked my own in an hour by taking canned diced tomatoes with Vidalia onions, cooking off the juices on the stove for about 15 minutes on medium high heat, and then baking them at 350 degrees in the oven for 45 minutes. I also didn't have any fresh basil, as its prices have recently sky-rocketed, so I opted to use homemade pesto (fresh basil, garlic, parmesan cheese, romano cheese, pine nuts, salt, pepper, and extra virgin olive oil) that I had previously frozen dramatically instead and nix the garlic powder in the original recipe. Also, considering how much I love cheese, I added a little more in and use only mozzarella and parmesan in addition to the cheeses in the pesto.
Here are images of the step-by-step:

Creating the figure-8 shape wasn't the least bit difficult; it's all in rolling the dough into a tube and making one strategic cut before one simple twist. Though, I found that it's really hard to roll out the dough before adding the toppings if it just hasn't fully doubled in size yet. If you want to play along at home, my version of the recipe follows. Next time I make this shape of bread, I'm going to fill it with caramelized onions and a touch of white cheddar.
Sun-dried tomato and pesto pane bianco
Adapted from Dianna Wara via King Arthur Flour. They also show off a lot of step by step pictures on their blog.
Ingredients:
1/2 cup warm water
1/4 cup sugar
4 teaspoons instant yeast
1 cup warm low-fat milk
1/3 cup extra-virgin olive oil
2 large eggs
2 teaspoons salt
6 cups all-purpose flour
1 cup sun-dried tomatoes, oil dried
3/4 cup pesto
1 1/2 cups shredded mozzarella cheese
1/2 cups grated Parmesan cheese
Preparation:
Combine the water, sugar, yeast, milk, olive oil, eggs, salt, and flour, and mix and knead until you've made a cohesive, soft dough that forms a smooth ball. Place the dough in a bowl greased with about a tablespoon or two of olive oil, and turn to grease the top of the bread. Cover and let rise in a warm place until doubled, about 45 minutes.
Meanwhile, thoroughly drain the sun-dried tomatoes; lay them on a paper towel to absorb any excess oil.
Line two baking sheets with parchment. Gently deflate the dough and divide it in half. Roll one piece into a roughly 22" x 8 1/2" rectangle. Spread on half of the pesto, and sprinkle on half of the tomatoes and cheeses.
Starting with one long edge, roll the dough into a log the long way. Pinch the edges to seal.
Place the log seam-side down on a baking sheet. Using a knife or kitchen shears, start 1/2" from one end and cut the log lengthwise down the center about 1" deep, to within 1/2" of the other end.
Keeping the cut side up, form an "S" shape. Tuck both ends under the center of the "S" to form a "figure 8" shape; pinch the ends together to seal. Cover and let rise in a warm place until double, 45 to 60 minutes. Repeat with the remaining dough.
While the loaves are rising, preheat the oven to 350 degrees.
Bake the first loaf for 35 to 40 minutes. Make sure to tent the loaf with foil after 15 to 20 minutes to prevent over-browning. Bake the remaining loaf.
Remove loaves from their pans; cook on racks. Store any leftovers well-wrapped, at room temperature.
Yields about 2 large loaves of bread.